"Over the years I have purchased five beautiful pieces done by Janet. The first painting and a sketch were gifts for other people which they truly loved. The three paintings I own, one of my father, one of my grandmother as a teen and one of her as a child. Janet was able through her talent as a great artist to bring them all to life through her paintings. These paintings have allowed me to enjoy seeing my father and grandmother everyday and brings peace and love to my heart."
- Donna McCormick
"I am so happy to have a beautiful portrait of my two daughters. It makes me smile and warms my heart every time I look at it! As one girl is now a teen, and one is a young adult, they will soon be venturing out on their own to follow their own paths. I will cherish this portrait of them and it will make me feel that they are always close by. The painting is also a reminder of the love of family. The setting for the portrait was at my sister's country home where we gathered one Thanksgiving for dinner and fun. Lovely memories all around!"
- Liz Pickard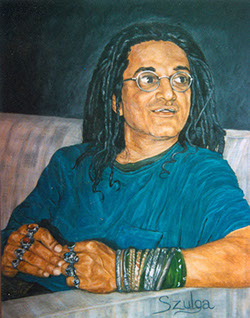 "My staff member phoned me to come
in and check out this painting that had just been brought to the club. I had assumed that it would be say the size of a broadsheet newspaper. Imagine my surprise at coming face-to-face with a larger-than-life portrait of myself, done with such attention to detail and capturing the nuances of my wry smile."
- Eugene Haslam
"I would like to express how pleased I am with the portrait I have commissioned from Janet. A while ago I began thinking it would
be a great idea to commission a painting of myself and my brother to be sent to Italy to my parents as a Christmas present. Janet
is a truly talented artist and has captured the image beautifully. Although the shipping had a few hick-ups, my parents were surprised and ecstatic when they opened their present, and my brother and I were just as excited for them to receive it. Janet is gifted in capturing the essence of the person through the artist's eyes, which makes a portrait so much more special than a
framed photo could ever be. Thank you from myself, my brother and most importantly my parents."
- Karin Martinelli